"Keep it Safe – a promise that we want to keep and guarantee even in these difficult times. To this end, we have drawn up a hygiene and safety concept for our PM-AM flats, which guarantees maximum safety for our guests and staff. Because even in times of social distancing, free movement with mutual consideration should remain indispensable."
Short and tight
Rules of conduct
Clearly visible on all external doors, airlock doors and lift doors, in lift cabins, and wherever our guests are and move around, are the guidelines for the rules of conduct in German, English and pictographically displayed (wear a mouth-nose covering; disinfect hands; keep your distance; etc.).
Distance
Structurally, it has been ensured that our guests will not find it difficult to maintain a distance of 1.50 m even in corridors and staircases.
Disinfection options
We provide sufficient disinfection dispensers throughout the house for all guests.
Mouth/nose protection mask
We and our staff wear a mouth and nose protection mask for your and our safety. Our guests are also required to wear a mouth and nose protection mask in the public areas.
Instruction
Our employees and external staff are comprehensively trained and instructed in all aspects of hygiene. We make sure to inform them daily about current developments and possible adjustments.
Documentation
All the measures listed above are continuously reviewed and documented.
Check-In process
The possibility of using mobile devices via app or check-in machine minimises direct contact on the day of arrival and departure.
Current
The measures and procedures in place at our facility are continuously updated and adapted to the latest scientific findings.
in the following we explain the detailed measures in individual areas:
Entrance areas
Entrance doors are "open" at peak hours
Behavioural instructions are clearly visible
Disinfection dispensers are provided in all passage areas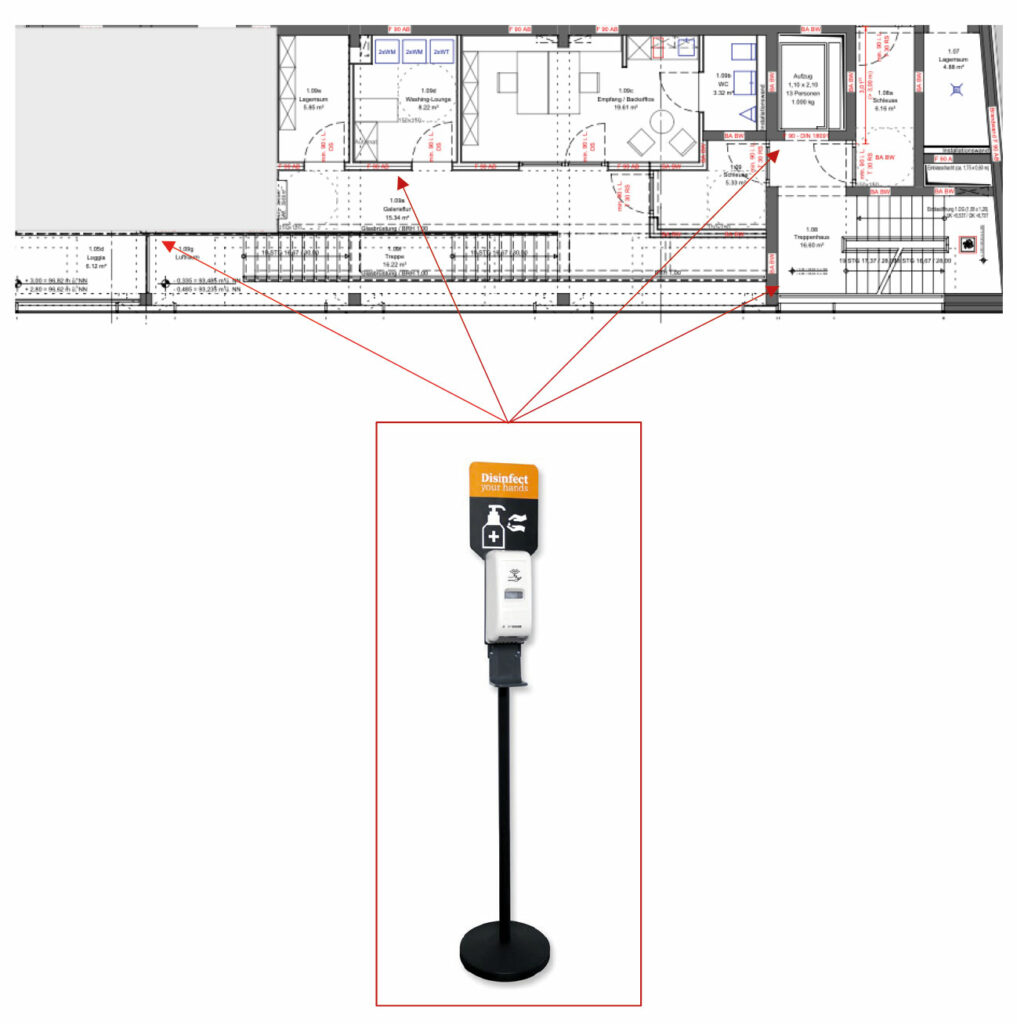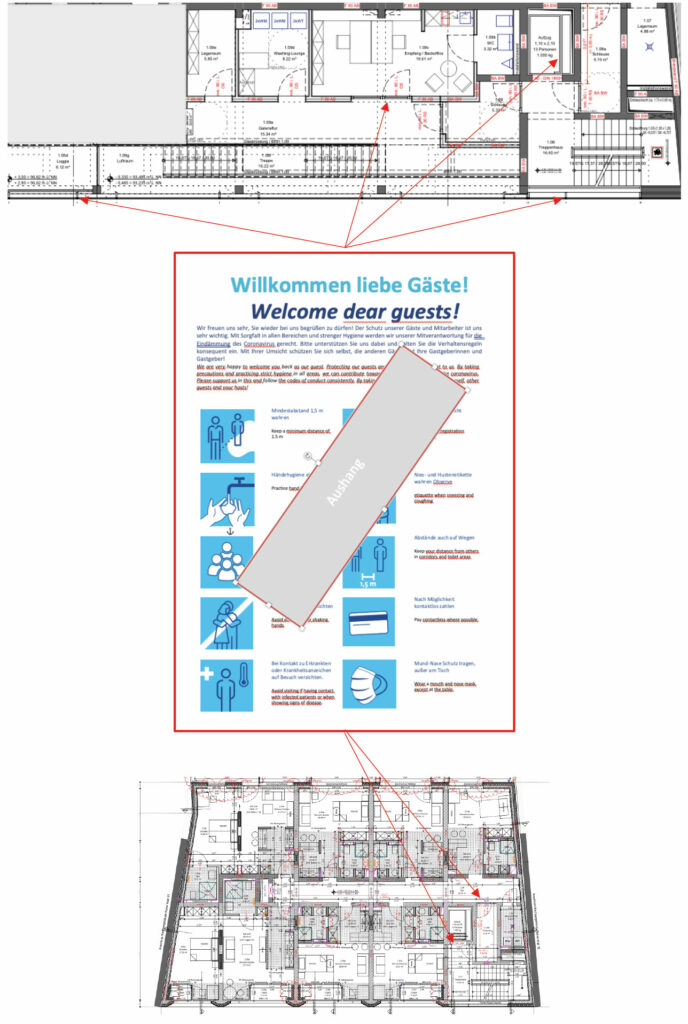 Reception office
Large, ventilated area
Distance markings on the floor with 1.5 m marking
Wear mouth and nose protection (for your own safety and also as a signal).
We prefer contactless payments: To reduce contact and dwell time at the front desk
We also offer mobile payment – for all digital debit cards, credit cards and by mobile phone.
Room cards are disinfected on check-out and return
No public beverage dispensers or food in the reception area
Mouth-nose protection is available at reception
Passenger lifts
Sign: Maximum 2 persons per household allowed on all lifts
Buttons in and on the lift are disinfected several times a day
On the floor – room
Disinfection of all light switches, doorknobs, handles, etc. with every cleaning.
Airing the rooms during the entire cleaning time of approx. 30 minutes with far open window – with draught where possible.
Change of cleaning cloths and towels after each room
Cleaning staff work with mouth and nose protection, if necessary also with gloves.
Hand hygiene according to 5-point plan after every room cleaning
Guest folder and guest information are offered digitally on the homepage and via SMART TV function.
Public areas (launderette)
Soap and disinfectant dispensers are available
One staff member is assigned daily to disinfect door handles, etc.
Scheduled cleaning of public areas, shortened cleaning cycle
Posting of the cleaning cycles with the signature of the cleaner
Check-In process
In principle, the most intensive contact between guest and host takes place during check-in and check-out. In order to minimise this contact process, we have relied on contactless check-in and check-out from the very beginning. With the reservation confirmation, we already refer to the possibility of mobile check-in via smartphone app. By downloading the Hotelbird app (Apple and Google Playstore), guests can check in on their mobile phones and receive a virtual "hotel key" on the day of arrival, with which they can access the property and their flat via their mobile phone and Bluetooth function. If a guest does not wish to use the app, they can check in at the Ariane check-in machine at the night entrance and receive a coded room card there. A check-out process is basically superfluous, as the stay must always be paid in advance by credit card or bank transfer on the homepage, in the app or at the check-in machine.
Cleaning (Housekeeping)
In general, our external housekeeping staff, as well as our daily cleaning of the flats, common areas and public areas, are exposed to an increased risk of infection. Therefore, we will tighten our general hygiene measures in the future. Measures for this purpose are:
Employee safety
Housekeeping staff must wear mouth and nose protection during their work, which must be changed at least every two hours. Furthermore, disposable gloves are worn for cleaning, which must be changed with every flat change.
Cleaning of the flats
Before cleaning a new flat, hands are washed and disinfected and the door handle is disinfected before entering.
Cleaning only takes place with the window open.
Wipe disinfection is increased, i.e. before leaving the room – whether final cleaning or intermediate cleaning – all handles, knobs, switches, remote control, smooth and hard surfaces, fittings, heating thermostats, hairdryers and chair backs are disinfected.
Provision of disinfectant for the guest so that he/she can use the possibility of post-disinfection.
Handling of laundry; see item Cleaning (Laundry)
Cleaning of the public areas
At least 2x daily cleaning and disinfection of high-touch surfaces such as door handles, handrails, disinfection and soap dispensers, lift, light switches, etc.
When contact is made with guests, care must be taken to ensure that the minimum distance of 1.50m is maintained. It must also be ensured that the staff member allows the guest to take their place and, if necessary, steps back.
Cleaning materials and equipment that are not needed are disinfected and stored on the respective floors directly after use, so that contamination by guests or to guests is avoided.
Cleaning (Laundry)
Safety in the provision of bed linen and towels is one of the most important tasks. In this respect, we are in close contact with our laundry staff. Furthermore, we attach great importance to the fact that our laundry provides proof of the disinfection effect of the washing processes on "germ and virus-laden laundry" in accordance with the procedure of the Robert Koch Institute. For this purpose, we request the latest certification with the respective test report from the laundry at regular intervals. The test report must show in the evaluation that a germ elimination of at least 107 log level (= disinfecting effect) was achieved in all washing programmes on all washing aggregates.
We continue to pursue the following measures and recommendations:
Dealing with dirty laundry:
Clean laundry and dirty laundry are stored in separate rooms
Dirty laundry is placed in the dirty laundry container immediately after use, ideally wearing protective gloves
Dirty laundry containers are only moved with gloves, so that germs & viruses can be prevented from being transmitted via the skin.
The placement of dirty laundry containers for collection is coordinated with housekeeping at predefined locations in the building.
The collection of the dirty laundry then takes place contactless (domestic staff & guests) by the laundry service driver
Measures for delivery:
Before starting work, the temperature of each driver is measured. In this way, the laundry excludes the possibility of drivers travelling to customers with an elevated temperature.
The service drivers wear gloves. In addition, the drivers wear mouth-nose masks if the necessary minimum distance cannot be kept
The service drivers carry out regular hand disinfections
Contact surfaces in the supplying vehicles are regularly cleaned with disinfectants.
The service drivers have no direct contact with the clean laundry
Contactless transfer of clean laundry at the defined points
COVID-19 case procedure
If we suspect that we have harboured a Covid 19 case in our house, we will first isolate the affected person(s) and location(s). If the test is negative, the laundry can be sent for processing as normal. If the test is positive, we will proceed as follows:
We will contact the laundry to discuss the proper return transport and processing of the textiles.
The in-house staff or HSK contractors for cleaning rooms are informed about the incident and ensure the cleaning and disinfection of the contaminated rooms according to the hygiene regulations.
Dirty linen from the affected guest area is kept separate from other linen. Important: If the contaminated linen could not be kept completely separate, it may be necessary to disinfect all the linen in circulation. ]
Contaminated dirty linen is placed in prescribed infectious linen bags and sealed well.
Infection laundry will be placed in specially provided roll containers and stored in a separate dirty laundry room. All laundry bags and container covers must be closed for transport.
At Wäsche- Mietsysteme, the transport and processing of infectious laundry is carried out in accordance with legal regulations and specifications (disinfection procedures with products and procedures listed with the RKI).
Guest or employee
+++Infection Emergency Plan+++
In case of suspicion, the staff member will be sent home immediately to avoid further infections. The staff member must call the family doctor to discuss the further procedure.
Guests with a suspected disease should be separated as far as possible and contact with other persons should be prevented as far as possible. The RKI recommends that we, as hosts, contact the respective health authorities directly. The health office will conduct an individual interview to determine the individual risk and define measures to be taken.
The contact surfaces in the company (e.g. workplaces, toilets, door handles, keyboards, telephones) are first thoroughly cleaned and disinfected.
Rooms in which a person with COVID-19 has been staying should be well ventilated. For this purpose, the windows are fully opened at regular intervals for at least 30 minutes.
We establish which persons have been in the immediate vicinity of the suspect.
The employee's doctor decides on the further procedure and, if necessary, issues a sick note. In justified cases of suspicion, he or she will report the suspicion to the competent health authority before the test result becomes known. The health office will then make further arrangements with us as the employer, e.g. regarding how to deal with possible contact persons.
Until the test result is known, the employee will remain in domestic quarantine.
If the test result is positive, the employee remains in quarantine at home for 14 days. This also applies to mild courses of the disease.
The time of return to work is decided by the attending doctor or the competent health authority.